When I'm shopping online, sometimes I get overwhelmed with the number of options out there…​
There are expensive versions, cheap ones, and others in between.
How do you make the right choice?
One thing is for sure:
If you shop on Amazon, Wikibuy can help–you a lot.
What is WikiBuy?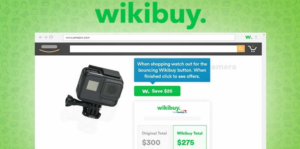 Wikibuy is an extension for iPhone and Chrome that saves you time and money (it will soon be available for Microsoft Edge).
As you browse for a product on Amazon, Wikibuy evaluates other sellers in real time for better deals, coupons, and discounts across a variety of retail websites.
After a few moments, a notification from Wikibuy will show a guaranteed offer, including delivery date and total price.
And the best part:
They find the best coupon code…
While you're at checkout!​
If you like what you see (and you probably will) you can accept the offer and purchase through Wikibuy.
Wikibuy will arrange everything on your behalf – and make sure that Barbie will make it on time for Lizzy's birthday.
How does WikiBuy work?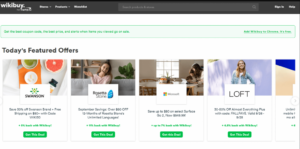 Unlike eBay, with Wikibuy you don't have to jump through hoops haggling with a seller to get a markdown. Wikibuy finds and curates the best offer for you.
You can rest easy knowing that with Wikibuy you get a 100% money-back guarantee:
If the seller falls through, or if you're just not satisfied with that coat…
There's no risk.
Wikibuy will help make it right, even giving you a full refund if necessary.
Signing up for Wikibuy is simple and straightforward.
On the Wikibuy homepage, just click "get wikibuy."
Enter your email address choose a password, and bam!
You're ready to start saving.
Don't forget to enter your zip code because, you know, shipping costs.
Using Wikibuy couldn't be easier.
Also Read – Why Whole Food is the Only Real Solution
What do you get when you use WikiBuy?
You don't have to hunt through endless online lists of coupon codes, only to find the one that could apply has expired.
Don't you hate it when that happens?
Wikibuy takes the guesswork out of the equation: advanced algorithms will quickly test the best and most relevant coupon codes for you and automatically apply the best one.
Wikibuy feels like discount shopping is done right.
The Wikibuy extension is always being updated to be faster; Wikibuy Instant is the latest update.
If you have the old version, you do have to uninstall it and then head to the Wikibuy homepage to get the newest one. This is kind of a pain. But if you're serious about bargains, it's well worth it.
Wikibuy Benefits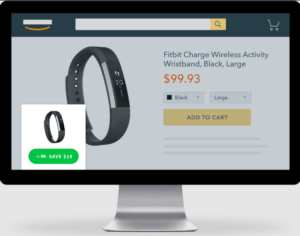 You're a dad who wants the latest drone. You're a teenage girl who lives for Hard Rock and wants a limited-edition poster.
You're a college student who lives on ramen and all-nighters but wants to get the perfect gift for your mom.
No matter what you're shopping for, from the ultra-rare to the everyday:
Wikibuy has your back.
The best part:
It's FREE!​
You don't have to spend hours the night before Valentine's Day to find a gift for your girlfriend that fits your budget.
Use Wikibuy to find the cheapest option that will make her swoon sooner.
It's that fast.
On the other hand, if you know the store, brand, and item you're set on, you can go the old-fashioned route and pick out the cheapest option on your own.
But trust me, Wikibuy will make the process a lot simpler.
WikiBuy Reviews: What are people saying?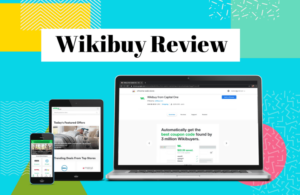 So is Wikibuy too good to be true?
It can't be that easy to find the best deal out there, right?
However many consumers who initially expressed skepticism have been won over by its simple, intuitive interface.
The Chrome WebStore shows an average of 4.5 stars out of more than 400 reviews. Here's the most recent feedback:
Thought I found a good coupon on my own (15%), ran the check anyway, saved another 15%! Love this extension!​
Review from Reddit:
I just downloaded it to try it out, picked one of the Wikibuy recommended examples (Nanoskin AS-009) to see what I could save, it showed me a $39 price vs. Amazon's $41.​
When Wikibuy came out last year, FerGeeks Blog wrote:
"Wikibuy is a pretty nifty little tool to use to shop smarter."
Peter Belcher at HowToRemove.Guide writes:
"It should be noted that WikiBuy appears to mostly work with big, well known online shops… Some may consider this a mixed blessing, but if you'd rather prefer to play it safe and purchase only from established and reputable online stores, then WikiBuy is probably perfect for you."
If you are shopping for something expensive (like that watch your wife wants) or regularly shop online, Belcher says that Wikibuy is the perfect tool for you.
Is WikiBuy a Scam?
Wikibuy is not a scam.
It has been tested by trustscam.com.
Wikibuy contains an SSL certificate, meaning that when you buy through Wikibuy, all of your personal information is encrypted.
Are there better alternatives to WikiBuy?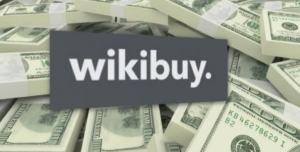 There are a lot of tools out there to help you get the discount you deserve. Fortunately, many of them are free:
Honey: the Honey icon will light up when it finds available sales and coupon codes. During checkout, you can click "Try Codes" and Honey finds and applies the best coupon. It's like Wikibuy, except Wikibuy will find and apply the coupon code for you, with no hassle.

Ciuvo Shopping:

 Like Wikibuy, Ciuvo finds the best deal for you, but Ciuvo also provides more information: product reviews, videos, and pictures. If you want a clean shopping app with fewer bells and whistles, Wikibuy is probably a better bet.
Update: We have found reports of malware being associated with Ciuvo and no longer recommend it.​
Personal Shopping Assistant:

This Microsoft add-on will categorize each shopping page you visit, so you don't have to keep clicking back and forth between tabs. When you add a product to your favorites, the Assistant will notify you of pricing changes. The Assistant will compare prices across sellers, but unlike Wikibuy, it does not apply coupon codes.

OneCart:

 This app lets you find and add products to a single universal cart; OneCart will also check for actual prices. It does not apply coupons.

RetailMeNot:

The granddaddy of the online coupon world, RetailMeNot now offers a mobile app for Apple and Android devices. You can browse online savings and also get notified about local deals when you're out shopping. You can save coupons to access them from other devices… but unlike Wikibuy, you have to put in the code yourself.