If you're like most people, you know you need to exercise. You understand how working out is good for your health and will help you lose weight.
Sometimes it feels like just another chore on the to-do list.
Exercise can be time-consuming, it's often hard work, and many of us have a long list of things we'd rather be doing…
Like going out and having fun.
The people at Beach Body must have heard us because, in Cize, they've developed a workout that is so much fun you forget you're exercising.
If you'd rather be hitting the club than hitting the gym, Cize could be the workout you've always wanted.
What is Cize?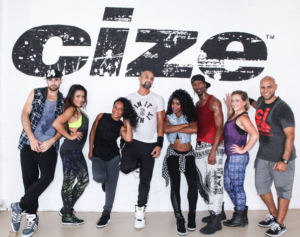 Cize is the brainchild of world-famous fitness presenter Shawn T.
Mr. T. is not just a buff fitness dude, he's also an excellent dancer and choreographer, having shared the stage with the likes of Adam Lambert and Mariah Carey.
In Cize, Shawn T. combines his two loves of fitness and dance to deliver a funky fitness workout that he says is "the end of exercise" which is where the name Cize comes from.
Puns aside, Cize is a dance-based workout system designed to get you up and moving and having fun.
Set to cool music, the challenging moves are designed to distract you from forgetting you're working out.
Keep in mind:
This is no sedate, leisurely exercise class. This is a program for serious results!
Cize is a 30-day program that you can repeat as many times as you like.
There are six different workouts, each one more demanding than the one before.
Each workout lasts between 30 and 50 minutes – long enough to be effective but not so long that you'll struggle to fit them into your day.
The focus is very much on aerobic exercise, and you'll huff, puff, and sweat your way through all of them.
How does Cize Work?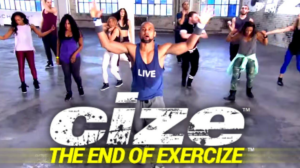 For some of our readers, dancing might seem like an unconventional form of exercise, but there is no denying it works.
Just look at the bodies of the dancers in almost any music video to see the truth in this.
What makes dancing such a great workout?
Well, it's predominately a form of cardiovascular exercise – or cardio for short.
Cardio exercise mainly uses fat for fuel, which means it is great for weight loss.
Aerobic workouts are also good for your heart and lungs and can reduce your risk of developing many serious diseases such as coronary heart disease and diabetes.
Cize is designed specifically to be fun, which means you are:
a) More likely to do it and
b) Will put your heart and soul into the entire workout from start to finish.
You'll also be so busy trying to follow the choreography and keep up with Shawn that you'll entirely forget that you are working out.
In fact, some of the most common feedback on Cize is how short the workouts feel.
You're so busy trying to learn the moves that you forget to watch the clock. Before you know it, you're workout is over. Distraction is a powerful thing!
The moves themselves are designed to work your entire body and dancing will develop your coordination, agility, and flexibility too.
This is not a muscle-building program, but it is a fun and effective fat-burning program.
Results: What Can You Expect from Shawn T.'s Cize?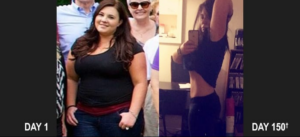 As a cardio workout, Cize is designed to burn fat.
Like most Beach Body-produced workout plans, it should burn around 1000 calories per hour.
If you eat well and stick to your workout schedule, this means you should lose around 2-3 pounds per week.
That might not sound like a lot of weight, but after 30 days, it adds up to 12 or more pounds.
Stack up 12 pounds of butter on your next shopping trip, you'll quickly see that losing 12 pounds of flab will have a big impact on how you look and feel.
However, many Cizers have reported that they lost more than just 12 pounds and one lost 100 pounds over just a few short months.
Your weight loss will depend on how hard you exercise, how cleanly you eat, and how dedicated you are to the program.
If you follow your chosen schedule to the letter, you will lose weight and change your shape while having fun too. Yes – you literally CAN dance your butt off.
At only 30-days, Cize is not a long program.
By the time it's over, you'll have to create a new habit of regular exercise or repeat Cize.
We recommend repeating the plan every month. Do this and you'll look and feel amazing.
You can do the beginner and then the advanced schedule to turn Cize into a 60-day program from the get-go.
Cize: The Workouts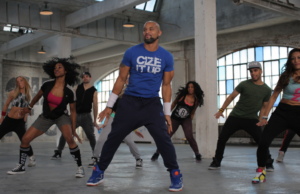 The 30-day Cize program is made up of six different workouts. Each one is progressive, so you need to start at the beginning. Shawn T. doesn't assume you can dance like a star right out of the box and he breaks each move down into simple steps, adding and speeding them up gradually.
That doesn't mean the moves are easy – they aren't – but just like mastering your first push-up, if you stick with it, you will progress.
The workouts are:
1. Crazy 8s -35 minutes of dancing and sweating to some favorite moves, many of which you'll see throughout the program. At the end, you get to perform the routine to Hands In The Air originally recorded by Timbaland.
2. You Got This – You'll pick up the pace and get an intense sweat, with fresh moves and a whole new vibe. You'll put it all together to Treasure, originally recorded by Bruno Mars.
3. Full Out – You've made it to Level 2 so get ready to get winded in this over-the-top, all-out, sweaty dance routine set to Lose My Breath, originally recorded by Destiny's Child.
4. In The Pocket – Crank up the energy and the pace. Now you're ready for even more new dance moves created and inspired by professional dancers, all choreographed to Problem, originally recorded by Ariana Grande.
5. Go For It – Ready to challenge yourself and show off your moves front and center? Before you know it, you'll be performing to Pass That Dutch, originally recorded by Missy Elliott.
6. Livin' In The 8s – CIize can teach anyone to dance—any style—any pace—to any type of music. This last routine is an entirely different dance experience, with an emotional finale to Sia's Chandelier. Get ready for your music video!
Each workout includes a warm-up, main cardio section, and cool down, and there is an optional eight-minute abs workout that you can slot onto the end of your Cize workout if you have the time or energy. Otherwise, you can do your abs exercises on a separate day.
All you need for the workouts is some space to move, a TV with decent speakers, and an exercise mat for the abs work. That's it – Cize is a really excuse-free way to shape up and lose weight. Check out some of the basic Cize moves in this video:
Reviews: The Word on the Web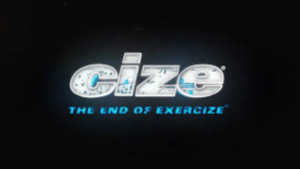 Cize is one of the most highly reviewed workouts on the internet and scores a hip-hopping 4.2/5 on Amazon.com, with 67% of purchasers awarding the full five out of five stars. Reviews from around the web include:
Review 1 – Mary Cummings on Amazon.com says, I lost 12 pounds in 3 weeks!! If you stick with it and try to follow some of the healthy food guide, you'll definitely see results. There's a reason I wasn't on the drill team or dance team, but I can do this!! Actually, I liked the first workout so much that I ended up just doing it every day for 30 minutes.
Review 2 – Cecilia M on Beachbody.com says, I love dancing but I'd only dance when it was really dark, like in a club, so I didn't feel like people were watching me. And with CIZE, once I got into turning the combos into routines, I felt comfortable, confident—like I actually knew what I was doing! I just followed Shaun's voice. I felt like I could mess up as many times as I wanted and not worry about anyone looking at me or relying on following my lead. The fact that I was sweating and winded, reminded me that I was also getting a great workout.
Review 3 – Melody Garcia on lifestyleupdated.com says, Cize is so much fun it's hard to believe you can lose weight while dancing and have fun doing Cize. I'm almost 15 years old and I have been overweight since I was eight. By the time I was 11 and in middle school I thought I would never lose weight. On the first day of Cize I had lost almost 2 pounds in one day. I'm going to Mexico for the summer and for sure I'm bringing the Cize workout DVD's with me.
What We Like About Cize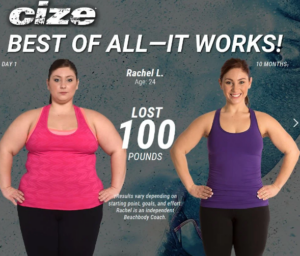 The main reason we love Cize is it's fun.
The moment the first workout starts, you forget all about exercise and working out because you have to concentrate on following the moves and staying on the beat.
The music is great, and Shawn T. is an awesome presenter.
The moves are tricky at first but, as you master them, they look and feel really good.
Each workout looks very professional, but that's what we've come to expect from any product made by Beach Body.
Workout time goes quickly, and you'll soon find yourself immersed in the routine and feeling like a dancer in a music video.
We also love the way the workouts progress and how the previous moves you mastered earlier reappear like old, familiar friends. The abs workout, which you can do any time you feel like it, is also good and will help you to develop a flatter, stronger core.
We also like that, unlike most workouts, there are no push-ups or other traditional exercises to slog through. This is a total dance workout which makes it perfect for anyone who doesn't like regular gym-type training.
What's Not so Good…
There is very little about Cize not to like but if you have two left feet, don't like hip-hop or R'n'B music, or feel self-conscious even when exercising on your own, this workout isn't for you.
With only six workouts, you may soon start to get bored with the same moves and music.
You may also find the workouts get easier as you master those moves. This could make the workouts less effective after a few run-throughs.
Finally, dancing is very much a lower-body activity; this workout will undoubtedly tone up your legs and help you lose weight, but most people would benefit from some upper-body exercises too.
You can easily remedy this by adding a few push-ups and resistance band exercises to the end of your Cize workout. Some Cize-ers suggest using hand weights to pump up the upper body work; that could be a good option for some.
What Do you Get when you buy Cize?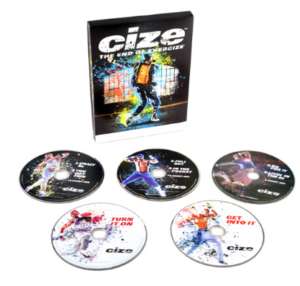 Cize is a comprehensive package that contains everything you need to get in shape. When you buy Cize you get:
· Three DVDs containing six workouts
· A beginner 30-day schedule to follow if you want to ease yourself in gently
· An advanced 30-day schedule to follow if you are a more accomplished exerciser
· A healthy eating nutrition plan to help you lose weight faster
· The 8-minute 8-count abs workout
· 24/7 online support
· Weekend survival guide – so you don't undo all your good work by partying too hard
· 7-day size-down faster fat loss diet plan
· Work your body bonus DVD with music and a guest appearance from TLC's Chili