Are you tired of following the same workout for weeks or even months at a time? Do you wish you had access to a variety of top exercise programs 24/7?
Do you want to start a new workout program today rather than wait for it to arrive in the mail?
Would you like to try a new workout without having to pay for the entire package upfront?
Yes?
Then Beachbody on Demand could be just what you are looking for.
With Beachbody on Demand, everything you need to get in shape and lose weight is available online – day or night. Whatever you want to achieve, the guys at Beachbody have the program for you.
Interested?
Read on!
What is Beachbody on Demand?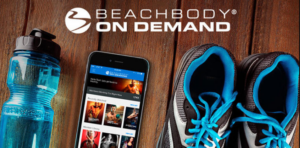 Beachbody on Demand is a mammoth collection of workouts that you can access using your laptop, PC, smartphone, tablet, or smart TV. The workouts are available online 24/7 because there are no physical products – no DVDs, no printed schedules, no nutrition books either.
The moment you log in you have complete access to the electronic versions of all these materials.
Access is unlimited; you can do as many (or as few) workouts are you like per day, and you are free to hop from one program to another whenever you like.
In many ways, it's a little like having access to the best fitness class timetable ever; just pick the workout you want, and do it whenever and wherever you like. So long as you have internet access, you can exercise.
Each workout is professionally produced and features some of the most respected fitness trainers in the world. Think Tony Horton, Shaun T., Chalene Johnson, Autumn Calabrese, and Sagi Kalev.
If you don't recognize these trainer's names, you will undoubtedly recognize their programs. Beachbody on Demand offers over 100 workouts and has plans to add many, many more.
The current batch of available programs includes: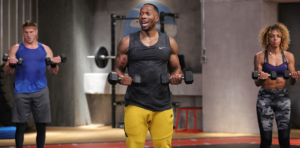 · Insanity
· Insanity the Asylum Vol. 1
· Insanity the Asylum Vol. 2
· Hip Hop Abs
· Hip Hop Abs Deluxe
· Rockin' Body
· Shaun T dance party
· P90X
· P90X2
· P90X3
· Power 90
· Ten Minute Trainer
· Tony one-on-one Vol. 1
· Tony one-on-one Vol. 2
· Tony one-on-one Vol. 3
· Brazil Butt Lift
· Thai Cheng
· Turbo Fire
· ChaLean Extreme
· Get on the ball
Beachbody members can also stream digital versions of fitness DVDs they have bought previously including 21 Day Fix, 21 Day Fix Extreme, Body Beast, Focus T25, Insanity MAX:30, P90, PiYo, and Cize.
What do you get with Beachbody on Demand?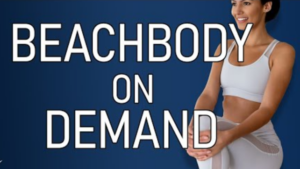 In case you missed it, it's important to understand that you don't get any physical product with Beachbody on Demand.
In fact, the reality is you are renting each workout – just like if you rent a movie from iTunes or, more accurately, watch something on Netflix. You cannot download the workouts, and they are only available online. You do, however, get access to:
· Instant streaming of 100s of HD workouts from some of the world's top fitness presenters
· Access to the "Deluxe" version of many workout packages
· The Workout Du Jour – a daily workout selected according to your goals and fitness level
· Live chats with the presenters and other experts
· Step-by-step fitness guides
· Workout calendars to follow
· Nutrition plans
· Online calorie counter
· Progress trackers
· Fitness and nutrition articles
· 10% discount on all future Beachbody purchases
· Access to message boards and chat rooms so you can connect with other like-minded users
The workouts themselves are categorized to make choosing the right program as easy as possible. Categories include Cardio, Dance, Low Impact, Weights, Yoga, Martial Arts, and more.
Results: What to Expect from Beachbody on Demand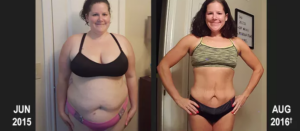 The results you experience with Beachbody on Demand very much depend on the workouts you choose to follow.
For example, if you do the Body Beast program by Sagi Kalev, you can expect to build muscle and strength while losing fat.
In contrast, if you do Cize by Shaun T., you'll burn fat and tone up while developing your cardiovascular fitness.
Each program is designed to produce different results, so it's important that you choose the one that is right for your current fitness goals.
That being said, the majority of the Beachbody on Demand programs are designed to help you lose weight and are supposed to burn around 1,000 calories per hour.
While results can vary depending on your starting point, your level of motivation, and your adherence to a healthy diet, Beachbody reports that one user lost an astonishing 207 pounds using this platform while other users report having lost anywhere between 10 and 30 pounds.
What we Love about Beachbody on Demand
There is a lot to love about Beachbody on Demand. In many ways, it could be the perfect workout solution for many exercisers.
If you love Beachbody's workouts, this system is almost perfect as you no longer have to choose and follow just one program – you can cherry-pick your favorite workouts as and when you want.
Each workout is tried, tested, and proven to deliver results.
As you'd expect from Beachbody, the workouts themselves are very professionally produced, delivered in full HD, accompanied by great music, and some even have subtitles. And if you find one workout or presenter is not to your liking, just select another one. Simple!
And with so many workouts to choose from, you need never suffer from exercise boredom again. Feel like getting your freak on and dancing some calories away? Choose a Cize workout from Shawn T. Fancy pumping up your pecs and embracing your inner Arnold Schwarzenegger. Try a Body Beast workout with Sagi Kalev. In the mood to go with the flow and do some yoga and Pilates? Try a Piyo workout with Chalene Johnson.
With no DVDs to carry with you, you are free to work anywhere and anytime. All you need is an internet connection. On vacation? Stuck in a hotel with no gym? It doesn't matter – you can still enjoy your favorite workouts.
Because you can access Beachbody on Demand 24/7, you can work out anywhere and anytime that is convenient. Early in the morning before work, after the kids have gone to school, during your lunch break or before you go to bed – it doesn't matter what time you want to exercise; Beachbody on Demands has got you covered.
Another great feature of Beachbody on Demand is that, when you finish a workout program, e.g. P90X3, you can immediately start another program the very next day; there is no need to waste time choosing, buying, and then waiting for another workout to be delivered.
We also love that Beachbody on Demand comes with a free 30-day trial so you can sample everything on offer at no risk.
You need to use a credit card to register, but you can cancel that immediately to avoid accidentally getting billed if you choose not to continue once the 30 days are up.
Beachbody on Demand is, in our opinion, very good value for money.
At the time of writing, the price per month is only $12.96 if you buy three months of access.
If you commit to a full year, that drops to just $8.33. Remember, for this price, which adds up to just over the cost of buying one set of workout DVDs, you get unlimited access to hundreds of different workouts. Knowing that you are paying for ongoing access may be the motivation you need to continue exercising on a regular basis.
What we Don't like so much…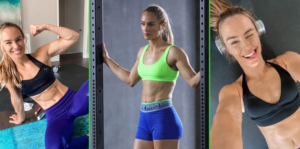 We're being a bit nit-picky here, but the main thing we don't like about Beachbody on Demand is also the same thing we love; the fact that all the workouts are available for streaming only rather than as downloads.
Streaming, when it works, is great but if you live somewhere with spotty internet or have a slow connection, it can be very frustrating too.
There you are, ready and willing to work out and your internet connection starts messing you around. Instead of focusing on your workout, you end up spending time waiting for your program to buffer, which can really put a damper on your workout experience.
And what if you find that you are somewhere without an internet connection at all? All your well-laid plans to work out could sink like the Titanic.
It's also important to remember that streaming on a mobile device may incur charges from your internet provider and as all the workouts are in high definition, you could easily end up with a big bill if you use your mobile data connection.
Another streaming-only gripe is that, unless you have an internet-ready TV, you will be limited to watching your workouts on a small screen – such as a laptop, tablet, or smartphone.
While this does mean you can work out anywhere, you may have trouble seeing or even hearing the workout unless you get up close and personal with your device.
For some users, so much workout variety could be a disadvantage.
For a workout to be effective, you need to do it often enough for your heart, lungs, and muscles to adapt. However, if you jump from one program to the next, you will burn calories, but you might never do a workout often enough to reap the fitness benefits on offer.
You can fix this problem by setting and following a weekly schedule such as:
· Monday – Piyo
· Tuesday – P90X3
· Wednesday – Hip Hop Abs
· Thursday – Turbo Fire
· Friday – Piyo
· Saturday – P90X3
· Sunday – rest
Our Overall Take
Beachbody on Demand is the ideal workout package for anyone who wants access to a variety of workouts from some of the world's best fitness presenters. It's more than just a library of workouts, though; you also get instant access to a host of other online resources that are designed to make getting in shape and staying that way as easy as possible. With 24/7 access at a very reasonable price, Beachbody on Demand eliminates many of the excuses we all have for not working out.
It's simple, comprehensive, and accessible and you can work out anywhere and anytime you have internet access.
Reviews: What Real Customers Say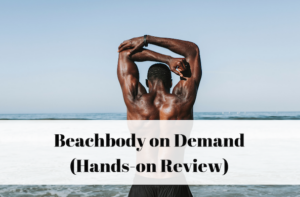 Beachbody on Demand is getting some great reviews. Amazon purchasers give it an average score of 3.7/5 with 59% of users giving it the full five out of five. The main source of dissatisfaction seems to be issues with Amazon's own Firestick service and not the product itself. However, if you can't access the service, the product becomes useless.
Other reviews from around the web include:
Review 1 – Uneekbeautyrox on Amazon.com says "Oh my gosh!!!! Out of all the workouts I've done and diet plans I've tried, this by far has changed my life! I've never seen sick fast results and I've never been so sore. It so strong at the same time! I love what beach body has to offer I wish I would have known about it sooner! By the way I'm a mother of a 7 and 1yr old and I'm 26 and if I can lose weight with this anyone can!!!"
Review 2 – Fitmomof3 on Beachbody.com says "I just had my baby 6 months before starting this 30-day free trial. And I am so happy I did this! I have alwaysbeen fit but this was my third pregnancy and losing the baby weight has been tough. I finally decided to commit physically and mentally! I'm down 10 lbs and 7 inches and I'm going to keep going so I can fit into my pre-baby clothes!!"
Review 3 – Redbeard on Reviewchatter.com says "Beachbody on Demand is much better than dealing with DVDs. I just use my Amazon Fire Stick and log into the app and I have plenty of choice of different fitness programs. This app has allowed me and my wife to try out Piyo, T25 and Insanity Max 30 without making a huge investment and buying all the DVDs. Also with both of us using Beachbody, it works out to just over 5 bucks a person. This is much cheaper than a gym membership."