Even for competent chefs, the joy of cooking goes hand in hand with the hassle. Putting a meal together often requires several different pans. Storage is a challenge.
Pans heat unevenly, so deciding when to take a steak or chicken breast off the heat is anybody's guess.
No matter how skillfully a dish is prepared, some foods stick to the pan. Cleanup is a real chore.
If these are familiar woes in your kitchen, keep on reading. Copper Chef® cookware might solve a lot of these problems for you.
What sets Copper Chef
®

 apart?

The manufacturer, Tristar Products, wants to replace your jumble of one-purpose pans with its all-purpose cookware. More information about the manufacturer will follow.
As explained on the Copper Chef® website, the pieces are designed to conduct heat more quickly and evenly. This ensures faster meal preparation and better food quality.
Not only that, but Copper Chef® products are nonstick.
Here are the basic pieces:
• A 9 1/2-inch, 4 1/2-quart square cooking and baking pan
• A 9 1/2-inch square skillet
• A 10-inch round skillet
Yes, two of the pans are square.
That gives Copper Chef® bragging rights to the world's first square nonstick pan.
The square shape and depth of the 4 1/2-quart piece allow for 25 percent more cooking space in volume over round pans. Its high sides make it easy to fry chicken or simmer sauces.
The extra room doesn't apply to surface area, so you won't be able to squeeze in an extra pancake.
The pan is unique in its versatility. The manufacturer urges cooks to try it as a frying pan, roasting pan, stock pot, rice cooker, and baking pan.
It can even serve as a wok.
That's like having six pans for the price of one, and it frees up storage space to boot.
Since foods don't stick, you can wipe the pan and cook a vegetable side while allowing your meat to rest.
You may choose to poach fish and other foods. A tiny hole in the glass lid allows steam to escape.
Weighing a little less than 2 pounds, the large square pan is easy to handle.
No butter or oil is necessary for cooking, so your meals will be better for you. You can even air-pop your popcorn in the large pan for a healthy snack.
Other nice features shown on the Copper Chef® website include the following:
• Heat resistance to 850 F
• Oven-safe, riveted handles
• Hollow handles for lower heat retention and safety of handling
• A stainless steel induction plate for fast, even heating without hot spots
• Five-layer construction
• On the 4 1/2-quart pan, an additional handle for lifting heavy dishes
• Toxin-free materials
Accessories include tempered glass lids, cooking utensils, a fry basket and a combination steamer basket and roasting rack.
Copper Chef® throws in a 25-recipe cookbook when sets are ordered. Add brand-new soups, stews, entrees, and desserts to your repertoire.
There are a few drawbacks. Keep reading to discover some of the cookware's weaknesses.
How are Copper Chef
®

 products made?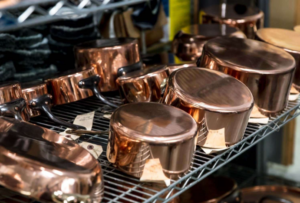 Copper Chef® is lightweight and easy to maintain because it's not actually made of copper.
This cookware is sold by Fusion Life Brands, a division of Tristar Products. Other items made by Tristar include the Fusion Juicer, Perfecter Fusion Styler, Power Pressure Cooker XL and Perfect Cooker.
According to the company's website, Copper Chef® products are made of aluminum and covered with a copper-infused, nonstick coating called Cerami-Tech.
A steel plate embedded into the bottom of the pan is an additional source of heat conduction.
Unfortunately, there is very little information about the mysterious coating aside from what we're told on the Copper Chef® or Tristar Products websites.
The copper infusion in Copper Chef's coating is intended to give cooks the best of both worlds.
Copper conducts heat quickly, but it's heavy, hard to clean, and expensive.
This cookware is supposed to look like the real thing, but it doesn't require polishing and maintenance. Cerami-Tech won't oxidize or tarnish because it doesn't have enough copper in it.
If you use nonmetallic utensils, according to Copper Chef® advertising, the coating will never scratch, chip or flake off in your food.
Wooden, plastic, or silicon utensils are recommended.
Do any acclaimed chefs endorse these products?
Copper Chef® has the endorsement of professional chef and QVC infomercial star Eric Theiss. You can watch his cooking skills and a demonstration of Copper Chef in this YouTube video.
The demonstration includes steaks seared in a flash on the stovetop. They retain their juiciness and flavor after finishing in the oven at 500 F.
Burnt cheese, eggs, and milk appear to peel easily away from the pan.
According to Theiss's own website, he grew up in New Jersey and showed interest in cooking from a young age.
When he was 6, he got his first cookbook. He's been a culinary artist ever since.
Theiss got his first break in his early 20s when he had the chance to work for famed restaurateur Frank Falcinetti at Culinary Renaissance in New York City.
He did a lot of moonlighting and catering for several years.
He was finally able to open his own fine-dining restaurant, Meritage, in West Chester Borough, Pennsylvania.
Theiss notes on his website that Meritage was a hit with the public and food critics alike.
He quotes John V.R. Bull, a prominent restaurant reviewer with the Philadelphia Inquirer:
"Stunning food and matching decor make the new Meritage one of the finest restaurants in the area."
Theiss later sold Meritage and branched out to work in food-related product development. He's also appeared on a number of infomercials as an on-air chef.
Copper Chef® is just one of the many brands he's been affiliated with. How he was involved in development isn't clear.
How do you Care for Copper Chef
®

 Products?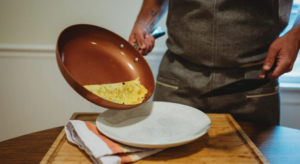 The makers say that this cookware is very easy to maintain if it's treated properly. Here are some tips from their website:
• Gently wash the pieces with non-abrasive soap, warm water, and a soft scrubber before using for the first time.
• Use only with nonmetallic utensils.
• Copper Chef® is dishwasher-safe.
• Even though the hollow handles are cooler than solid handles, care should be taken. Potholders are needed for using Copper Chef® on a gas stove or when removing pans from the oven.
What are customers saying around the web?
Reviews of Copper Chef® are mixed.
There are enthusiastic users who say that the cookware met all their expectations. Others say that food sticks to the pan and the coating chips off.
The worst reviews cite inferior quality and the cookware not living up to its hype.
The best rave about ease of use, versatility, and easy cleanup.
Some customers were surprised by the instruction to avoid extra-virgin olive oil or cooking spray. The company website doesn't mention that.
Its customer rating at BBB is 100 percent negative, but based on additional criteria, the BBB rates the company at 3.45 on a five-star system.
On the BBB site, a number of complaints about Tristar Products in general revolve around shipping delays and poor customer service.
Copper Chef

®

 Reviews from around the Web:
This has become my favorite pan due to the easy cleanup. Nothing sticks to it just as advertised. The depth has made this my go to pan for everything. I highly recommend this pan to everyone. – Bed Bath & Beyond
Have used both pans several times for different foods with no stick problems yet. I am hesitating to use the fry basket and steamer rack for fear of scratching pans. Still thinking about that. May be a way to coat the feet somehow. Have burned pancakes and cabbage and grilled cheese with no cleanup problems. I think if you don't scratch it there won't be problems at all. – Epic Reviews
Everything sticks in the middle of the square fry pan, and the corners and edges do not get hot. I gave up on it and bought another pan that I just love. This one belongs in the garbage. – Highya
Is Copper Chef
®

 safe to use?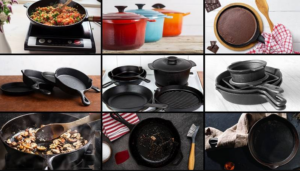 That's debatable.
The website claims that the products do not contain the man-made chemicals that make Teflon dangerous.
However, it doesn't specify what is in the Cerami-Tech coating other than the copper.
What about the aluminum in Copper Chef® products?
According to an article in Livestrong Magazine, cooking with aluminum can add 1 to 2 milligrams of the metal to your food.
The magazine reports that some studies have linked aluminum to Alzheimer's disease but not to cancer.
The article recommends taking care when you cook with aluminum pans. You shouldn't use them for acidic foods like tomatoes.
It also says that food stored in aluminum will absorb it.
Some reviewers stated that the Copper Chef® handles don't stay as cool as the manufacturers claim.
What should be considered when purchasing cookware?
First, think about your lifestyle.
How will you use your cookware? How many people will you cook for?
Do you prefer to sear foods quickly or slow-cook dishes like stews and sauces?
When you've pinpointed the way that you most often cook, think about the assortment of pieces that you'll need.
Make sure to take your stovetop into consideration. For example, not all pans are suited to induction heating.
Best Materials for Cookware:

Materials matter. Cast iron, stainless steel, and copper all cook in different ways.
Some coating materials, such as Teflon, contain unsafe chemicals. Do your homework on the product before buying anything.
Stainless Steel
It keeps its good looks and lasts for ages.
Some foods stick if the pan is heated at the wrong temperature.
It doesn't react with foods.
The heating is uniform.
A high-quality stainless steel pan can last years and years.​
You can use it for just about any type of cooking.
Cast Iron
It's very durable and the surface is nonstick.
Because of its weight, it's not ideal for everyday cooking.
Cast iron is a great choice for frying.
It can be heated to any temperature and used in the hottest ovens.
It has to be methodically seasoned with oil before use, and seasoning has to be periodically maintained.
If it's left wet, it may rust.
Enameled Cast Iron
Some are so attractive that you can set the cooking vessels directly on the table.
The coating is fairly durable.
You can cook at high temperatures on the stove or in the oven. Slow-cooking gets good results in enameled cast iron.
The enamel can chip if you're not careful.
One drawback is its heavy weight.
This product is considered safer than aluminum.
Anodized Aluminum
It's a strong, lightweight, less expensive option.
It is prone to staining, though, and some users say that certain foods cooked in it have a bitter taste.
Copper
Genuine copper cooks quickly and evenly.
It's very durable.
It's perfect for just about any type of cooking. Some pieces have brass or iron handles for oven use.
Since copper is reactive, most cookware is lined with stainless steel.
It is not dishwasher-safe.
Copper cookware is more expensive than other types.
Pieces develop a patina over time that requires polishing.
Other Elements to Consider in Cookware

Handle
Handles may be silicon-coated, wood, or metal. Do you want a pan that you can use in the oven? If so, get metal or silicon-coated.
Rivets
These hold the handle to the pan. Make sure that they're sturdy and secure.
Shape and Rim
For tossing sauteed items in the pan, straight-up sides and a plain rim are best.
Flared sides and a curved rim are better for pouring out gravies, sauces or other liquids.