Breaking anything is a frustrating experience, even when it's something not particularly important. Damage to a treasured possession is heartbreaking.
To make matters worse, if you want to fix the item, you need to find the right type of glue. Different adhesives work for different materials.
How do you know what's best?
In this review, we explore a popular alternative solution: 5 Second Fix®.
What Is 5 Second Fix

®

?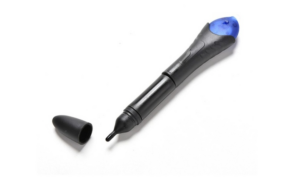 5 Second Fix® works just as the name implies — it allows you to fix anything in five seconds or less.
Using liquid plastic, 5 Second Fix® allows you to weld any material to repair an object permanently. Leaving a clear finish, there is no visible mark.
5 Second Fix® works at temperatures ranging from 5 degrees Fahrenheit to 122 degrees Fahrenheit. This makes it suitable for virtually all climates and situations.
The product will stick to both wet and dry surfaces, provided they are not greasy.
Lasting around two years at room temperature, some tests have found that 5 Second Fix® can work for much longer still. It even lasts when exposed to direct sunlight.
What Makes 5 Second Fix

®

 a Better Option Than Glue?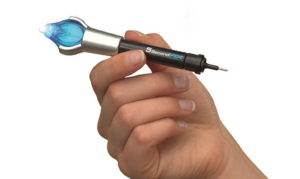 Based on our experience with epoxy, we're not convinced that 5 Second Fix® is any better than glue, other than the process by which it is cured. If you really need something done in 5 minutes– this may be your answer.
If you can wait for it to cure overnight, this really isn't the best option.
On the upside, there's no risk of making a mess or damaging another item. If you spill, you can wipe the product off nonabsorbent surfaces with a baby wipe or other similar cloth.
You can use the same product on all types of material — metal, plastic, glass, wood, and more.
For instance, a unique way to use the product is to strengthen or repair damaged fingernails. After, you can use a file to give your nails the proper shape.
In fact, you can paint, sand, polish, mill, or vanish any surface with 5 Second Fix® without damaging the object.
The product can also be used as an insulating material for low-voltage circuits and for repairing even very small surfaces of any material.
Compact and convenient, you can easily carry 5 Second Fix® wherever you go. It's a useful product to have with you to make repairs in an emergency.
To modify projects that already have 5 Second Fix®, you can add another coat without causing problems.
You can also remove 5 Second Fix® from smooth surfaces using a scraper. Follow up by using a cleaning product to remove any remnants.
Does 5 Second Fix

®

 Really Work?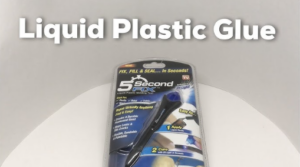 The creators of 5 Second Fix® claim the product works by applying a special liquid plastic. This is cured by a UV light, creating a powerful bond.
The question is: does it really work?
KFVS12 News put it to the test.
They decided the best place to try out the product would at Annie Laurie's Antiques in Missouri. Almost everything for sale in the store is breakable.
The antique store suffers from frequent damage to products. This is often due to employees moving furniture and bumping into something else.
Recent breakages have included everything from ceramics and vintage eyeglasses to a wooden napkin holder and a metal fan.
The experimenters from KFVS12 decided to see how 5 Second Fix® could help repair items.
They began with the eyeglasses. Soon, they realized it would be much easier to complete the task with two people.
The product is advertised as being easy to use alone. However, the experimenters found it difficult to hold both pieces of the broken object and 5 Second Fix® at the same time.
After making the repair, the glasses appeared fixed. Unfortunately, they broke again as soon as someone tried to wear them.
The next test was with a martini glass.
Learning from the previous test, the experimenters tried using more products. They also gave the UV light more time to cure the plastic.
This time it worked!
Unfortunately, the next two tests were unsuccessful:
The product was unable to bond wood. This was possible because it was difficult for the UV light to reach to within five millimeters of the plastic bonding.
The metal fan seemed as if it would work well with 5 Second Fix®. However, after a full 30 seconds with the UV light, the plastic failed to cure.
The following test went better. This was with a porcelain bird.
The porcelain bonded well. The pieces were still holding together after half an hour.
However, the experimenters pushed their luck in testing how much pressure the bonding could take.
Under pressure, the bird broke again.
After all the tests, the experiments concluded that 5 Second Fix® can work well with some materials. However, it may need a little more than five seconds.
In addition, they believe that opaque items are more difficult to bond. This is due to the UV light being unable to pass through the pieces.
However, bear in mind that this is just one experiment.
YouTuber Colt Sebastian Taylor also tried 5 Second Fix®.
He had much more success and recommends it for all types of minor fixes.
He is also clearly more comfortable with the product — he had no problem using it without assistance!
The Step-by-Step Instruction for Using 5 Second Fix

®
Using the 5 Second Fix is easy, according to As Seen on TV.
Step 1: Lay a piece of paper to protect the surface where you will be making the repair.
Step 2: Wear gloves and safety eyewear to protect your skin and eyes from exposure.
Step 3: Squeeze the liquid plastic onto the object where it is broken. Apply liberally, especially if it is not a clean break.
Step 4: Adjust the two pieces until they align perfectly.
Step 5: Flip the 5 Second Fix® over.
Step 6: Switch on the UV light. Wait around five seconds to cure the plastic.
Step 7: Your object should be repaired and ready to use again!
Note: You should wait 24 hours before exposing the fixed item to water. After this amount of time, the object should also be dishwasher safe.
The Strengths and Weaknesses of 5 Second Fix

®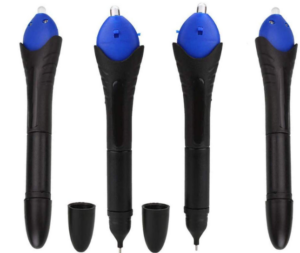 As with all products, 5 Second Fix® is strong in some aspects but fails in others.
Strengths
The LED light lasts for around eight hours. As you will only be using it for five seconds at a time, this is more than enough for most users.
The company claims it's ideal for hobbyists: you can use it for any crafts, even items that will be aerial, like mini drones and helicopters. I would personally opt for an epoxy that creates a permanent bond, such as this one, but today we're discussing a different product.
You can keep the wand charged at all times with flexible cords of any length.
It is pocket-sized, lightweight, and portable.
There are refill packs for sale whenever you run out of liquid plastic.
Weaknesses
5 Second Fix® is not tested for food safety. This means you should not use it with any objects that will come in direct contact with food or beverages.
To change the batteries, you need to take it apart. The company does not recommend trying this, but instead replacing the wand.
You should be somewhat skeptical of the claim that 5 Second Fix® can really hold 400 pounds.
And finally:
When the bond actually works, it holds for around two years. This could be a strength or a weakness, depending on how you look at it.
What Are People Saying About 5 Second Fix

®

?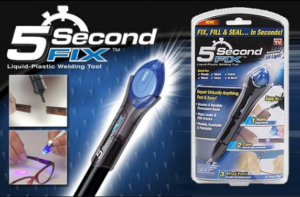 Reviews for 5 Second Fix® have been mixed.
Many people are thrilled about how they recovered possessions that would otherwise have been trashed.
However, others are less impressed by the results. Many say they tried to fix opaque objects and the UV light was unable to reach through.
I make wire beaded trees and use this to attach the tree to a rock or large crystal. A week now and still holding strong. My only complaint is wish it came in a bigger pen or was cheaper. Did try on boyfriend's glasses and didn't take first time but did the second. Also used to fix a broken resin figure. From As Seen On TV
Initially I was amazed. My thin metal eyeglasses arm broke apart. I used the 5 Second Fix. It held and felt as good as new for approximately 6 hours of me wearing the glasses after the repair. Then the "welded" arm just fell off. I was no longer amazed. I was disappointed. From HighYa
I bought it to repair an arm on a small, nano drone. It was easy to use but not strong enough for this purpose. It seems to become brittle once cured and continued to break in this application. More suitable for a small, quick or temporary fix where there is little stress. From Amazon
Safety Warnings and Considerations for 5 Second Fix

®
Warnings
In addition to the warnings in the instructions, 5 Second Fix® offers a list of safety considerations on their website:
The product can cause skin irritation after prolonged or repeated exposure. Skin sensitivity appears in the form of rashes and hives.
Contact with the eyes can lead to irritation, swelling, tearing, redness, and cornea damage.
Excess use may lead to central nervous system depression. Symptoms include headache, dizziness, and nausea.
Swallowing the product can cause irritation of the gastrointestinal tract.
There is a concern that the product may cause cancer or mutations. So far, there is insufficient data to prove or disprove the concern.
As 5 Second Fix® contains peroxides, it is flammable. It may ignite with an explosive force when confined.
Class action lawsuit
Four consumers have brought a class action lawsuit against Ontel Products Corp., the parent company of 5 Second Fix®.
The plaintiffs claim that the product fails to perform as advertised and is a scam.
They call the product an ineffective plastic compound. To back up their case, they refer to the hundreds of negative reviews online.
Compared to similar products, 5 Second Fix® has a higher percentage of negative reviews. This suggests it is not just down to improper use of the product.
All four plaintiffs requested a refund. They say they were ignored by Ontel Products.
The class action lawsuit asks for injunctive relief and award of damages for all consumers who purchased the product.
The plaintiffs are also asking for compensation for court costs and attorneys' fees.
What Are Some Alternatives to 5 Second Fix

®

?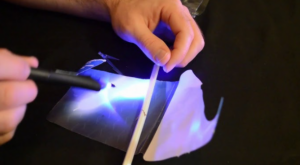 As we mentioned in the article, if you can use a two-part epoxy, you're success rates will be significantly higher in most cases. However, below are some alternatives to 5 Second Fix® that work the same way, with light to cure the glue.
Bondic Liquid Plastic Welder
Bondic is basically an upscale, and more expensive, version of 5 Second Fix®. Evidence shows it works slightly better as well. Bondic repairs all types of materials.
The product comes in a starter kit, which includes:
– Liquid plastic with an applicator
– A UV LED light
– A refill tube of liquid plastic
– Large and small sanding blocks
– Flexible sanding sticks
– Microfiber cleaning cloths
It works best on rough surfaces that are free from grease.
Another benefit is that it's solvent-free and claims to never dry out.
Octopus Glue
Octopus glue works much the same as 5 Second Fix® but is designed to bond just replacement glass screens on smartphones.
It is an adhesive with super low viscosity. This means it flows easily and has a reduced risk of air bubbles.
The product comes in a syringe, allowing you to measure exactly how much adhesive you want to apply.
You then cure the liquid with the LED flashlight for three to five minutes.
RapidFix UV Liquid Plastic Adhesive
RapidFix UV comes in two forms:
1. A pack with a UV flashlight and 10 milliliters of the clear adhesive
2. Or a refill pack with the adhesive only.
It takes 10 seconds for the UV light to cure the liquid plastic.
You can sand or file the fixed item to gain the right shape. You can also paint it or leave it clear.
RapidFix UV works even better if you build it up in layers.