Today most Americans don't get enough nutrition in their diets. In fact, the abbreviation experts use for the "Standard American Diet" is SAD.
Coincidence?
With all the supplements on the market today, shouldn't there be at least one that can improve your SAD diet?
One product that's gained some attention is It Works® Greens.
Today we'll take a look at whether It Works® truly works, and how it might be able to help you.
How Do Health Supplements Like It Works
®

 Greens Work?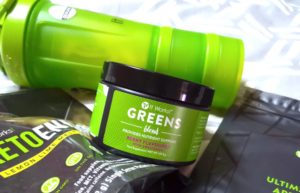 Several health products are designed to help people improve their overall health with superfoods and added nutrients.
Since most people don't get the recommended amount of vitamins, minerals, and nutrients, using a health-boosting mix can produce great results.
Products packed with nutrients can increase your energy, clear your digestive system, and even increase your metabolism.
Other nutrients and superfoods like blueberries and spinach can strengthen your overall health and help you feel noticeably better.
These products are usually packed with several different vitamins, minerals, and enzymes. Some come in fine powder form, so they're easy for your body to absorb and a convenient way to get your daily nutrients.
What is It Works
®

 Greens?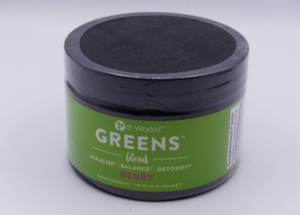 It Works® Greens is manufactured by a multilevel marketing company called It Works. The Greens line of products is the last step in what It Works® calls its "Wrap, Remove, and Reboot" process.
Greens are intended to help your body "reboot" with concentrated nutrients, vitamins, and minerals.
Even though the company encourages consumers to purchase all of their products, many people use It Works® Greens alone.
The product itself is thermogenic, which claims to increase your body heat. Raising your body temperature helps improve your metabolism and even your body's capacity to burn more calories.
The overall nutritional contents are:
10 calories

2 grams of carbohydrates

1 gram of dietary fiber

50 mg magnesium (dimagnesium malate)

250 mg potassium (potassium citrate)
They include 1080 mg of what's called the "Greens Proprietary Blend." This blend has 38 different "superfoods" and herbs.
While we don't know the exact quantities of each ingredient, It Works® gives a full list of contents:
Blue Green Algae/Spirulina

Parsley

Barley Grass

Spinach

Chlorella

Alfalfa Extract

Matcha Green Tea

Watercress

Rosemary Leaf

Plantain Leaf

Dandelion Leaf

Lemon Grass

Green Tea Leaf extract

Dulse
It Works® Greens also boasts 34 different fruits and vegetables, present in a separate blend. The supplement has 1,475 mg of this "Whole Foods Proprietary Blend," including:
Pea fiber

Apple fiber

Eleuthero Root Extract

Fruits and Vegetable Blend with:
Apple, Carrot, Tomato Juice, Orange Juice, Blueberry, Rosehips, Beet, Amla, Kale, Plum, Ginger, Pineapple Juice, Cauliflower, Broccoli, Grape Juice, Grapefruit Juice, White Willow, Onion, Papaya Juice, Peach, Pear Juice, Brussels Sprouts, Lemon Juice, Raspberry Juice, Strawberry Juice, Pumpkin, Black Currant, Goji (Lycium barbarum)
Sunflower Lecithin

Astragalus Root Extract

Turmeric

Meadowsweet Herb

Blackberry Fruit

Acerola

Bilberry Fruit Extract

Cranberry
It Works® Greens has no GMOs, artificial flavors, colors, or sweeteners.
You can get It Works® Greens in the original size (120 g / 4.23 oz), a value size (360 g /12.7 oz), or in On-the-Go packets sold as 30 single serving packets (4 grams each).
How to Take It Works
®

 Greens

It Works® recommends that you take two scoops a day in eight fluid ounces of water.

Avoid taking It Works® Greens three to four hours before bedtime. The caffeine from the green tea in the product gives you an energy boost, which can make it difficult for you to fall asleep.

It Works® Greens has the added benefits of being:
Allergen-Free

Vegan

Soy-Free

Dairy-Free
It Works® Greens comes in two flavors: orange and berry. There are slight differences between the two flavors.
It Works® Greens Berry uses natural flavors and stevia (listed as Rebaudioside A) for sweetening. It also has natural flavoring. As a result, the serving size and net weight for Berry are a little higher than Greens Orange.
You shouldn't use It Works® Greens if you are pregnant or nursing. The company doesn't recommend it for children, although some users report giving half the serving size (one scoop) to their kids. Check with your pediatrician to ensure safety.
If you are taking any prescription medicine, check with your doctor before starting It Works Greens.
Results: What Can You Expect From It Works
®

 Greens?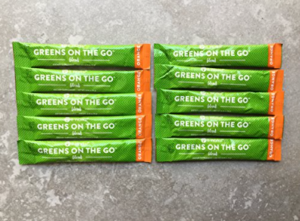 It Works® Greens is a general health supplement to promote stronger overall health. You can almost think of it as a vitamin.
The benefits unique to Greens are its focus on alkalizing and pH balance. Ideally, we should be able to maintain this balance through a healthy diet. However, most people just don't consume enough nutrients.
Factors like stress can also throw off your body's balance and increase acidity. It Works® Greens can be a way to counteract daily stresses and supplement your diet.
Although It Works® Greens are packed with healthy superfoods and nutrients, one major drawback is the small amount.
The product is only ten calories, which means although it contains a number of fruits and vegetables, it still doesn't come close to meeting your daily recommended amount.
It's important to think of Greens as a supplement and not a substitute for a healthy diet.
What Makes It Works
®

 Greens Effective?

It Works® Greens claims it can help you burn more calories and lose weight. This product has several different ingredients that contribute to its benefits.

We'll go over the main ingredients present in Greens and examine if they really contribute to the advantages that the product is said to have.

Magnesium

Magnesium can be helpful for people with diabetes. One study revealed that it increased insulin sensitivity in participants with insulin resistance. Several studies confirm this connection.

The recommended daily dosage of magnesium is 420 mg a day, and scientists believe this should be the minimum amount. It Works® Greens contains 50 mg of magnesium, which makes it suitable as a supplement but not enough to meet your daily needs.

Being deficient in magnesium can often have the opposite effect. A deficiency puts you at greater risk for cardiovascular diseases, osteoporosis, and type 2 diabetes.

Seniors and individuals with gastrointestinal disorders are more likely to experience a magnesium deficiency.

Potassium

Potassium, magnesium, and a healthy dose of fruits and vegetables can improve the mineral density in bones. A study on bone mineral density in senior men and women found that alkalizing minerals like potassium and magnesium improve bone health.

Green Tea Extract

One of its main ingredients, green tea extract, has thermogenic properties, which have been proven to help you lose weight.

Many studies have examined the link between green tea extract and fat loss. According to a literature review on the topic, overall results are mixed.

While green tea extract might contribute to weight loss, more research is necessary to determine its real effectiveness.

Blue Green Algae/Spirulina

Spirulina or blue-green algae is one of the top ingredients in the Greens' proprietary blend. It protects cells from damage through a rich concentration of antioxidants, vitamins, and minerals.

A few of these nutrients include vitamin E, B-complex vitamins, zinc, copper, and iron.

Dietary Fiber

Dietary fiber is vital for stable health. It's common in fruits, vegetables, and some grains, like barley and oats.

It Works Greens has only one gram of dietary fiber per serving, including pea fiber and apple fiber in their whole foods blend.

Getting the recommended or high intake of fiber reduces the risk of gastrointestinal diseases, as well as problems like constipation.

There are two types of fiber, soluble and insoluble. Apples contain soluble fiber, while pea fiber has both types.

Soluble fiber lowers cholesterol and blood glucose levels. Insoluble fiber improves the function of your digestive system.

In addition to benefiting your overall health, the fiber in Greens is the primary ingredient to improve gastrointestinal health.
What People Are Saying About It Works
®

 Greens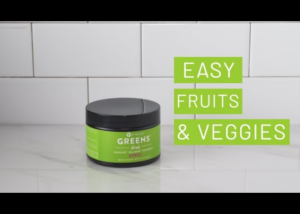 The consensus is that It Works® Greens helps users feel healthier than they did before. People reported a range of benefits from more energy to allergy relief.
Some users were dissatisfied and didn't see any effects, but strongly negative reviews are rare.
"This stuff is great! It is an easy way to get your vegetables as well as much needed energy and balancing your body's acidity…This will be my second month taking it and I can say I can feel a big difference. My focus is better, I feel more energetic and also trims up my waistline!"
-Amazon
"As a chronic pain patient i have been using It works greens . The tumeric and pineapple juice in it as well as the other ingredients have kept my pain more managable."
-Green Drink Reviews
"I love the It Works Greens and what people need to remember is everyone's body is different. I've had customers say the product didn't work for them but they never used it for a whole month. I have horrible allergies all year long and haven't had to open my medicine cabinet because of the greens."
-Super Food Drinks
Published Studies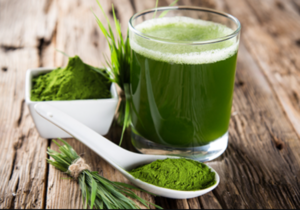 There are no scientific studies for It Works® Greens.
The product contains several superfoods, herbs, fruits, and veggies that are beneficial to the body, so it can be a little tricky to find scientific studies that prove that It Works Greens is effective.
Alkaline Mineral Supplements to Keep a Healthy Acid-Basic Balance
Since one of the main claims of It Works® Greens is to decrease the acidity in your body, we'll first examine the ability of magnesium and potassium to alkalize.
A study published in 2009 examined the effects of a multimineral supplement (MMS) on the acid-base balance in the body. This MMS included magnesium, potassium, and calcium.
Researchers recruited 25 subjects and measured pH levels at three points: before taking the MMS, three hours after ingesting the supplements, and for one week with MMS. They tested pH levels in blood, urine, and saliva to determine acidity.
The results revealed a clear link between the supplements and acidity. After taking MMS in the morning, blood and urine tests three hours later revealed that pH levels rose.
In the blood test, there was a small increase, while the urine test revealed a significant increase in pH, proving that mineral supplements have alkalizing properties.
Magnesium, potassium, and calcium decrease acidity in the body.
Spirulina Extract with Zinc to Treat Patients with Chronic Arsenic Poisoning
When providing nutrition facts, companies are required to place the ingredients in the highest quantities at the top of the list. Ingredients at the end of a list have the smallest amount present in the product.
We'll focus on the first ingredients in each of the It Works® Greens' proprietary blends. Under the Greens blend, the first ingredient is Blue Green Algae, also known as Spirulina.
In Bangladesh, researchers are searching for a solution to chronic arsenic poisoning, a significant problem in Bangladesh, India, Taiwan, and Chile. They conducted a randomized, placebo-controlled study on spirulina and arsenic poisoning.
Patients with chronic arsenic poisoning received either a placebo or 250 mg of spirulina and 2 mg of zinc. Scientists measured zinc levels through the patients' hair.
Those who took the spirulina and zinc supplements showed a 47.1 percent decrease in arsenic levels. The results suggest that Spirulina can reduce arsenic build-up and may have real evidence that it can detoxify the body.
Review of the Health Benefits of Peas
The final study we'll present is on pea fiber, the top ingredient under It Works® Greens' Whole Foods blend.
A review of research on peas from Cambridge, published in the British Journal of Nutrition, compiles information on several studies. Researchers point out that fiber makes up 20 percent of the composition of peas.
Peas also contain two varieties of dietary fibers, which come from the seat coat (or the hull) and the inner layer (or the cotyledon). Both types provide different benefits to the body and have different solubility.
Pea fiber helps improve gastrointestinal health. Since It Works® Greens claims to keep your digestive tract clear, fibers do support these claims. However, the amount of fiber in this supplement is low compared to eating fiber-rich vegetables, so the digestive benefits are minimal.
You may experience other benefits from pea fiber too—if there were much to be found in a simple 2 scoops. The fiber and starch in peas make it a low-glycemic index food, which is effective for type 2 diabetes treatment and prevention.
Fiber also limits your body's reabsorption of bile acids, which can also reduce your blood cholesterol. If you really want the benefit of fiber, however, you'll need to buck down and eat real fruits and vegetables.
Critical remarks
It's reasonable to be suspicious of multilevel marketing companies. Many pyramid schemes advertise themselves in the same way. Let's take a closer look into the company It Works.
No Approval from the BBB
"It Works! Global," the official name of the company, is not BBB accredited. The Better Business Bureau lists the main cause of concern as a pattern of errors that the company has failed to address.
The primary complaint has been issues with product delivery and customer service. Problems with "billing and collection" are high, and so are complaints about "problems with product/service."
False Advertising
On November 4, 2013, the BBB brought up an issue with false advertising on the It Works® website. The company responded quickly and qualified their claims to avoid making sweeping promises about weight loss.
The company has received no further official complaints.